I remember my surprise when my favorite teacher, which we with the girls confided secrets of her heart – someone who likes – told us about how she married. She and her husband studied together and were friends for a long time, well, in a simple way and then somehow suddenly married. It was a very happy and peaceful family.
I, teen-maximalist then thought – what stupidity even, to equate love and friendship! Love it hoo as overwhelmed by passion, yearning, anguish, and sweetness. A friendship – boredom, something smooth and calm. The opposite of love, too … too stable and responsible. Love is somehow easier – out of love, well done, a heart can not command. A friendship, sacrifice and effort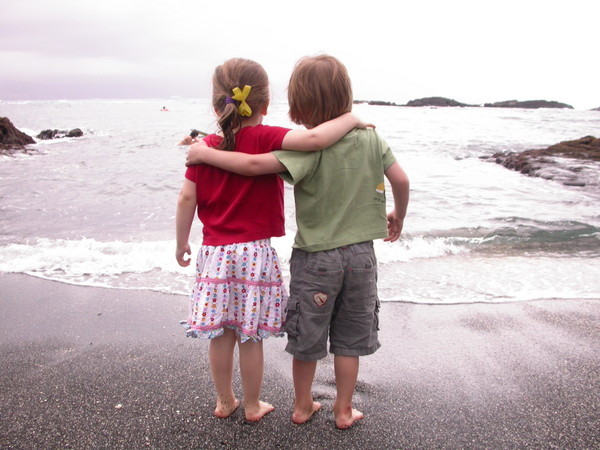 it requires much more.
This now I know that without the friendship of love in any way.
My husband and I know each other for almost 20 years, and 20 years, we have been friends. Actually, our family was born and grew out of a long friendship. Friendship with all the consequences – with a common interest, a long conversation on various topics, disputes, trust each other the secrets of the heart. And when the event of a failure (or downright tragedy, how many should be in 17-18 years for the tragedy) in the romantic front, this one was close. So that by the time our relationship a romance more than friendly, he knew everything about me. And I'm on it.
Oh, how much we have saved the nerves in our family life because of this! And, no matter how much I have friends, girlfriends, even the oldest and favorite, best and, really, I think, the only one, but he – the husband. Who trust fully in everything, even that is not intended for her husband's ears.
It is said that the friendship between man and woman is impossible. This is not true, it is possible. Only she can end the wedding. And friendship – this is the most solid foundation for the family. Because passion or love sometimes tends to fade or even disappear completely. And without a strong friendship in love there is no chance to turn into love.
I have long realized that he could not get anything good out of a marriage according to the principle "You Orthodox, I am Orthodox, then everything will be fine." It will, perhaps, but not for long. On the first pious impulse. But rather, will it appear that all is well and correctly. But if there is no common interest in addition to the faith, if there is at least some common characters, attitudes, tastes, like a sense of humor after all, very soon everything will start to fall apart.
And in the best case, a family life will go on by inertia of habit or on the bare sense of duty. Sense of duty, which would collapse at the first sign of passion, every passion – be it carnal passion or love for alcohol or irritability, or greed, whatever. Or the wife will be enough for the pious man (or vice versa) and will start an infinite pressure and humiliation …
And after all this, and a person can experience a crisis of faith. And then quite get away from the church. And then what will bind the spouses? What will save their marriage and get help to those who lose the faith? I'm afraid nothing. Because the trust of its second half there, but there is a doubt whether it's your half … Yes, and "half" that do not really striving to be supported because it seize the bitterness, resentment, and ordinary family concerns.
Alas, I have more and more come across sad examples of a family plagued by two concurrent crises – faith and family. For some reason, so often "sausage" men. And in this case, even it is not clear who is heavier – a woman who once especially suffer because the children in his arms, and to think what to do next, or a man who suddenly finds himself in a feeling that everything in life was a mistake, and especially marriage . Outwardly, of course, heavier women (to be honest, and I'm in such situations more on their side), but what really? Who has more opportunities to not lose heart, in the literal and figurative sense of the expression ?.
Honestly, I can hardly imagine that feeling – that you really her husband (or wife) never loved and contact you once something vague and abstract. I think it's very scary and painful.
I did not want to say that this can only happen in an Orthodox family, with people who were married in a neophyte rush – the rush of passion, linking "normal", non-church people in this sense does not reliable.
And even if the family is not falling apart, and rests on a sense of duty or inertia, or a family? When her husband did not want to go home, and my wife is happy, if he is delayed at work, when you do not talk about, except for the budget, when all the time hanging in the air, or indifference or irritation. And not temporarily, but permanently. This may sound grim, but personally I think that out of this situation there. It's sad, but the moment was lost in the beginning. Probably, in the case of a very strong will and a responsible person who is willing to love the unloved, the breakthrough happens and wonder. But I, alas, such cases are not met.
In general, anyway, and will not go away in marriage without friendship. I can give many examples, not from books or even from "friends of friends' stories, and from his observations.
Here are a family with one child, usual average, those who disbelieve: the husband made his wife offer a very romantic, without familiarity, and especially friendship, nothing really about it not knowing, quickly married, quickly tired of each other, live by inertia, economy lead together raising a child, especially not swear. My wife says – oh, how good, when he leaves for a day. I remember that was a shock for me when I first heard it. And it was at the beginning of family life, I call all of the participants had been married the longest at the time of that conversation, and suffered terribly when her husband went to work for a day. Now, I'm not surprised at such words (I do not know that there is a man say, I'm more about women), because I hear this very often, alas.
From the families of believers there are striking examples, when married people radically different, but because both Orthodox, then all will be well and properly. And this has led to the most tragic consequences even worse than unbelievers.
And here is the family, the couple that studied together (cooked in a common variety of get-togethers were counselors at the camp, had some common passion), no special romance in the conventional sense, long term, many a time even without a shadow of thought about marriage, and "relations" – and now people together for many years, and it only gets more interesting with each other. What's the secret?
No secret – ordinary friendship. Do not look for romance, passion, tears and sighs, and simply looking for a friend with whom you are interested, that you trust. And then, and cordial relations, suddenly appear.
No wonder that there is such an old name for a loved one – one heart .